2021 Incidents
Fire
EMS
Jan
22
41
Feb
24
41
Mar
25
42
Apr
May
Jun
Jul
Aug
Sep
Oct
Nov
Dec
Total
71
124
Previous Years
Fire
EMS
2020
450
668
2019
387
718
2018
413
723
2017
307
782
2016
346
879
Web Counters
Website Visitors
Since
April 10, 2018

Visitors Today
Apr 20, 2021

Welcome to the Official Website for the
Mahopac Volunteer Fire Department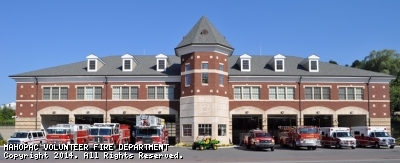 Thank You

March 05

1:00pm. MVFD would once again like to thank Ocean State Job Lot of Mahopac for their very generous donation of hand sanitizer, sanitizing wipes and protective face shields. We are very fortunate to have a local business so willing to donate items to assist in keeping their First Responders safe.... (Full Story & Photos)

Car accident with a vehicle fire

Member Robert Kick, April 19

04/18/21 3:32AM

Early in the morning on Sunday, Mahopac fire crews were dispatched to a vehicle fire on Watermelon Hill rd. While enroute 18-1-3 (Assistant Chief Rivera)was informed that the fire was a result of a Motor Vehicle involving a utility pole with wires down. The vehicles sole occupant was able to get out of the car on their own and reported no injuries.
... (Full Story & Photos)

Out of Control Open Burn

April 06

4:46PM: MVFD received a call for service on Park Hill Terrace for a brush fire. Once on scene, members found an intentional open burn that had gotten out of control. The homeowner was burning brush and other debris that had accidently spread to a nearby fence and shed.

Thank you to Mahopac Falls fire for their mutual aid tanker.

We would like to take this time to remind the residents of the Town ... (Full Story & Photos)


Helping out our neighbors

Robert Kick, March 15

Mahopac Fire Department's members have been kept busy in the beginning of this week by responding to calls for service both in and outside of our district. More notably, our members have completed a standby in our HQ for Carmel, in Somers yesterday and in Brewster today. Yesterday we were stood by in our HQ while Carmel Fire was out operating at a mutual aid brush fire. Next we were sent to Somers ... (Full Story & Photos)



18-5-1 and Engine 274 (Yorktown Fire) backfilling Somers at their Lincolndale Fire House.


Mutual Aid Fire

March 04

Just after 6pm yesterday evening, Mahopac's bravest were requested mutual aid to the Mahopac Falls Fire Department for a confirmed working structure fire on Austin Road. Initially requested for a Tanker Pumper with personnel to standby, while en-route 18-4-1 was re directed to the scene where their crew assisted in fire suppression. Shortly after Tower Ladder 18-5-1 was requested to respond to ... (Full Story & Photos)


Chief James Stasiak, 1st Assistant Chief Andrew Roberto, 2nd Assistant Chief Gabe Rivera

Congratulations

March 04

MVFD had a small in-house ceremony to install the department officers for 2021 at their monthly meeting this evening. Members took their oath of office sworn in by Town Supervisor Ken Schmitt and a plaque was presented to George Jones for his past service to the Board of Fire Commissioners. The installation of MVFD officers is normally a much bigger deal, but with COVID still a real thing this will ... (Full Story & Photos)


Bringing Quick Information to the Front Seat

March 01

MVFD upgraded the 3 iPads which had been assigned to the Chiefs Command vehicles, and has now outfitted the first due engines from each station with an iPad. This lets the Officer utilize the I am Responding program and have a heads up for any available information we input. MVFD currently plots Hydrant locations, Water Sources, Knox Box Info, Hazardous Building Materials List, Pre-Plans, Sprinkler ... (Full Story & Photos)

MAHOPAC WEATHER
Your feedback is important to us! Feel free to sign the guestbook.