2021 Incidents
Fire
EMS
Jan
22
41
Feb
24
41
Mar
25
42
Apr
26
52
May
39
55
Jun
28
53
Jul
34
27
Aug
20
33
Sep
47
55
Oct
36
38
Nov
Dec
Total
301
437
Previous Years
Fire
EMS
2020
450
668
2019
387
718
2018
413
723
2017
307
782
2016
346
879
Web Counters
Website Visitors
Since
April 10, 2018

Visitors Today
Nov 30, 2021

Welcome to the Official Website for the
Mahopac Volunteer Fire Department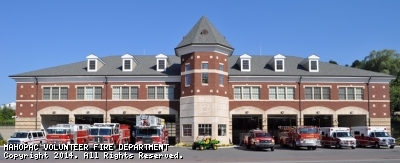 SUPPORTING OUR BROTHERS & SISTERS

Chief James Stasiak, October 11

10/11/21. 4:00pm. MVFD members enjoying a gorgeous day on the golf course while supporting our Brothers & Sisters of the Putnam Valley Volunteer Fire Department at their golf outing celebrating the Departments 75th Anniversary.... (Full Story & Photos)

MVFD WELCOMES SPARKY TO ITS FIRE PREVENTION TEAM

Chief James Stasiak, October 05

10/05/21 10:00am. MVFD was very happy to finally get the official word that we would once again be allowed back in the Classrooms and Pre-Schools to educate our youngest fans about Fire Safety. Today MVFD members spent time at Kids Kottage and introduced our newest member of the Fire Prevention Team SPARKY. SPARKY was so excited to meet all his new pre-school friends and show off his fire truck.... (Full Story & Photos)

Looking for Automobile Donations:

Asst. Chief Andrew Roberto, October 04

Have a vehicle taking up space in your driveway? Has your old car had enough and quit running? If so, contact the Mahopac Volunteer Fire Department. We are looking for donations of vehicles to provide members extrication training. Any donations will receive a letter of donation for the Kelly Blue Book value of the vehicle you can use as a deduction on your annual income tax. If interested ... (Full Story & Photos)

MVFD Takes To The Streets

Chief James Stasiak, October 03

10/03/21. 11:00am MVFD was happy to once again be part of the Mahopac-Carmel Chamber Street Festival. It is always great to get out and interact with the members of the community and answer questions which they have about our daily operations.... (Full Story & Photos)

The Dangers of Powerlines

Member Robert Kick, July 21

This past weekend the Mahopac Volunteer Fire Department responded to multiple alarms involving downed electric lines of some kind.

Saturday, July 17th 6:21AM: Crews responded to what first was a report of wires down and burning on Crafts Rd. Within a few minutes the call was upgraded to a vehicle fire next to a structure. Upon arrival, it was quickly upgraded to a working structure fire involving ... (Full Story & Photos)



Downed tree that caused the wires to come down.

MAHOPAC WEATHER
Your feedback is important to us! Feel free to sign the guestbook.